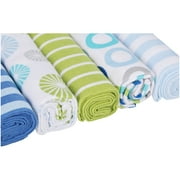 Have a bunch of extra blankets for your baby in and around the home with this pack of 5 Receiving Blankets from Luvable Friends. Receiving blankets are a multi-use staple in the baby world, substituting for a changing mat in a pinch, for use as a burp cloth, to cover a nursing mother, shade a sleeping baby in a car seat, or provide a clean surface for your baby to lie down on, among a variety of other uses. These receiving blankets are made from 100% cotton flannel to keep your little one warm and comfortable, and come in a fun assorted pack of multi-colored green and blue stripes and circles. With this pack of 5, you can throw one in the nursery, one in the car, one in the purse, and one in your diaper bag! An ideal gift for new or expecting parents. Pick up this versatile pack today for use with your baby.
Made from 100% cotton flannel, a warm and comfortable fabric that is gentle on your baby's skin
Pack of 5 28" x 28" receiving blankets, in multi-colored green and blue assorted striped and circle designs
Never be without a handy receiving blanket again - keep one wherever the baby may go
Great gift for new or expecting parents
Machine washable with overstitched edges for easy clean-up
Designed in the U.S.A.
Customer Reviews
Soooo soft!
I didn't realize how soft these were when I ordered them. They are heavenly! Perfect size for my newborn and will be great lovies when he's older. Definitely recommending these to others!Momtotwo
Wrong colors
Wrong colors. Bought them for the lime green and turquoise. Got pink. Yuk.Sunnyszoo

Jennifer
You may also be interested in